Any of you that know me on some level by now understand how much love I have for the game and what we do at SGS.  It's been another amazing year on and off the field with the crew and I can't thank everyone involved enough for being part.
Together as a soccer community we've contributed to many charities this year.  I've seen countless friendships, relationships and business opportunities grow out of the league's and teams and it's this part I think that stood out to me so much in 2017.
What we can accomplish when we work together.  2017 may be be looked back on as a bad year for some and great for others.  It certainly has been divisive for many.  With that being said I'd like to offer a counter to popular opinion and some ideas from my own observations this year.
Every week across my home state of Arizona and also when I travelled to our various leagues and tournaments across the country I see people from all backgrounds get on the field and play the beautiful game.
It's this that I love and stands out to me most about what we do at SGS.  The football is one thing but the fact it can bring such a diverse group of people together is really amazing to me.
Of course not everyone sees eye to eye and there are games where tempers get a little out of control but that's the 1%.  The other 99% of what I see is people connecting through their love of soccer.
From that blooms all kinds of magic.  I see Facebook posts from people that have been on trips together that met at soccer.  People get married.   Have kids.  Get new jobs.  And on it goes.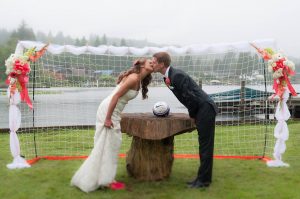 (Katie & Bennetts SGS Wedding)
Going into 2018 I'd like to challenge everyone in the leagues to maybe offer your hand out to someone you don't know, introduce yourself and build stronger ties in our communities.
The power that lies in the group when we work together is immense.  We can have a massive impact on things in our communities and the bigger the group gets the more of an impact we can make.
From my observations in 2017 I offer  a reminder no matter your background, beliefs and philosophys in your life that soccer is our great equalizer.  If you are willing to come with an open mind and involve yourself in the soccer community great things will happen I promise.
This is a thank you to everyone that is part of our movement across the country.  I'm truly grateful that you took the time to read this and also be part of SGS this year in whatever capacity it may be.  And if you're reading this and are not involved or want to be more involved this is an open invitation to do so in 2018.  Viva.
Much love,
Adam Thelwell | Founder | Small Goal Soccer
Facebook – https://www.facebook.com/SmallGoalSoccer
Instagram – @smallgoalsoccer